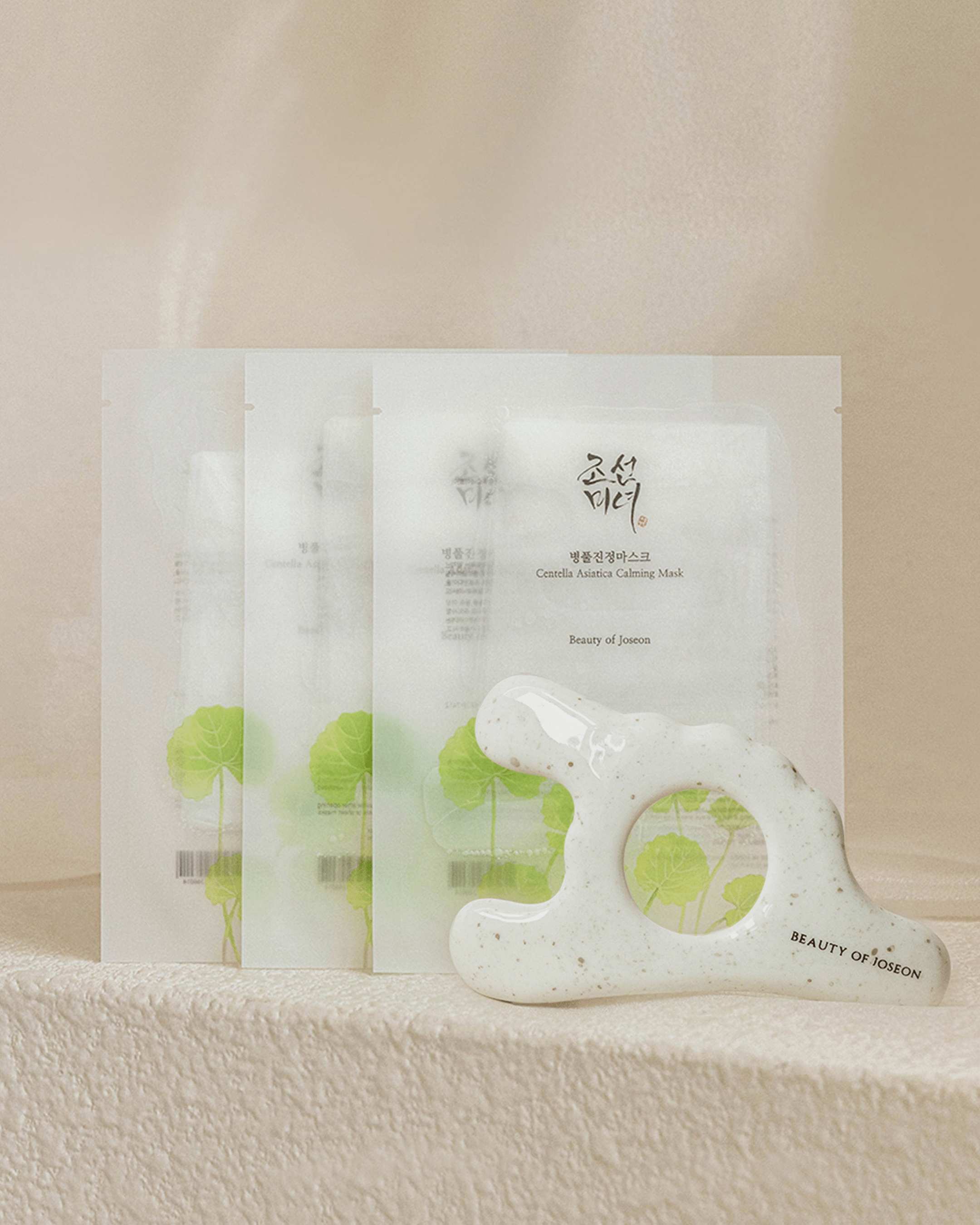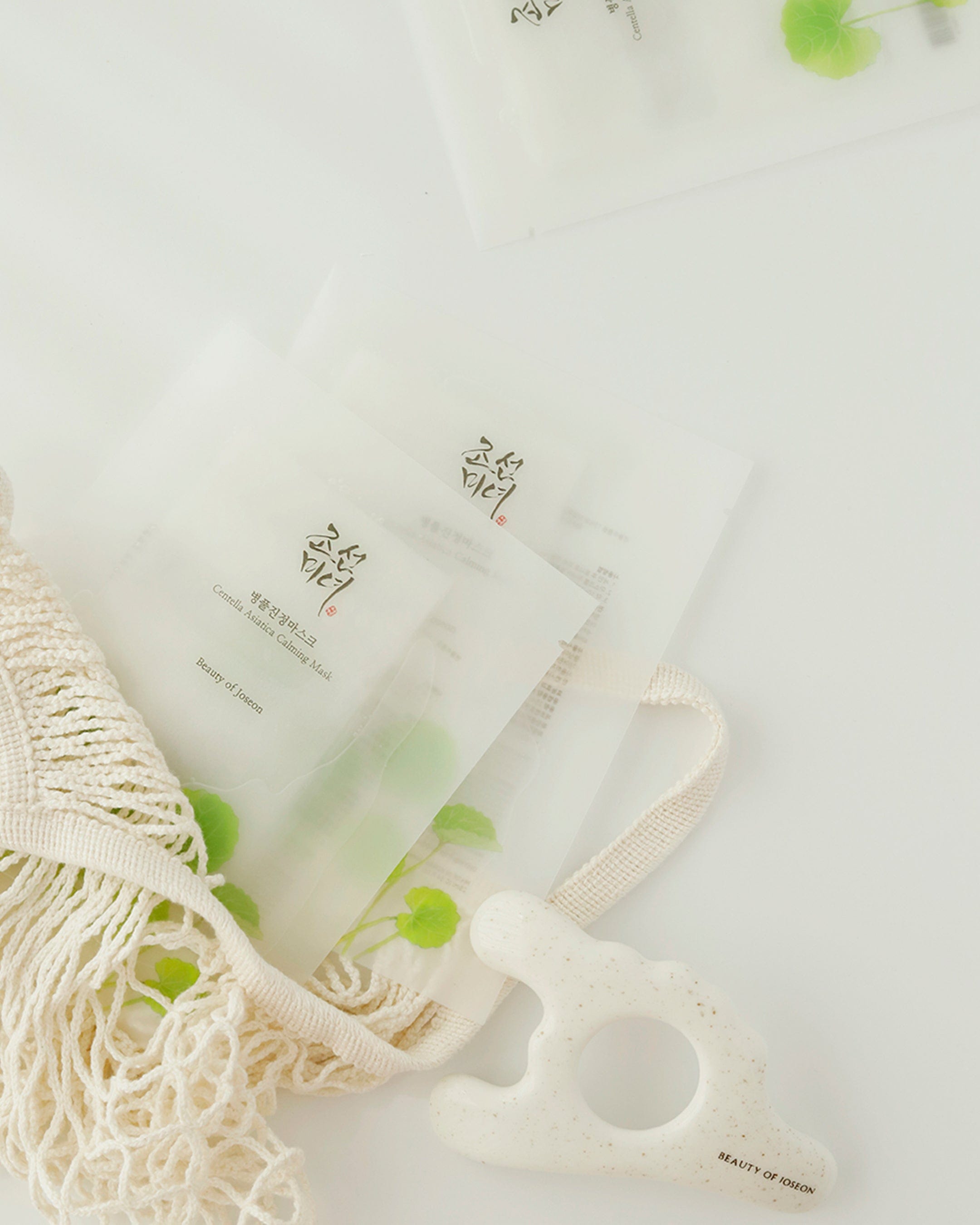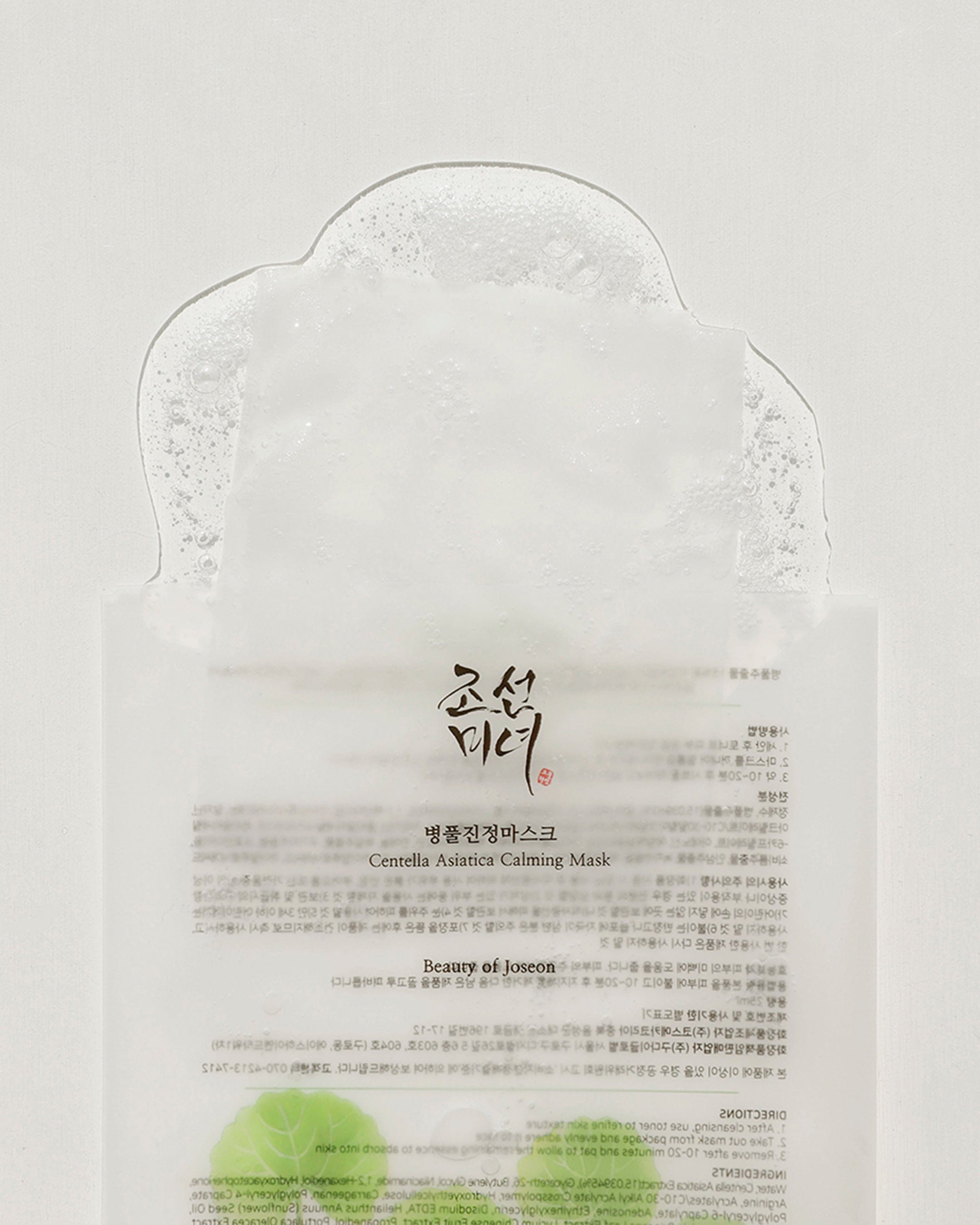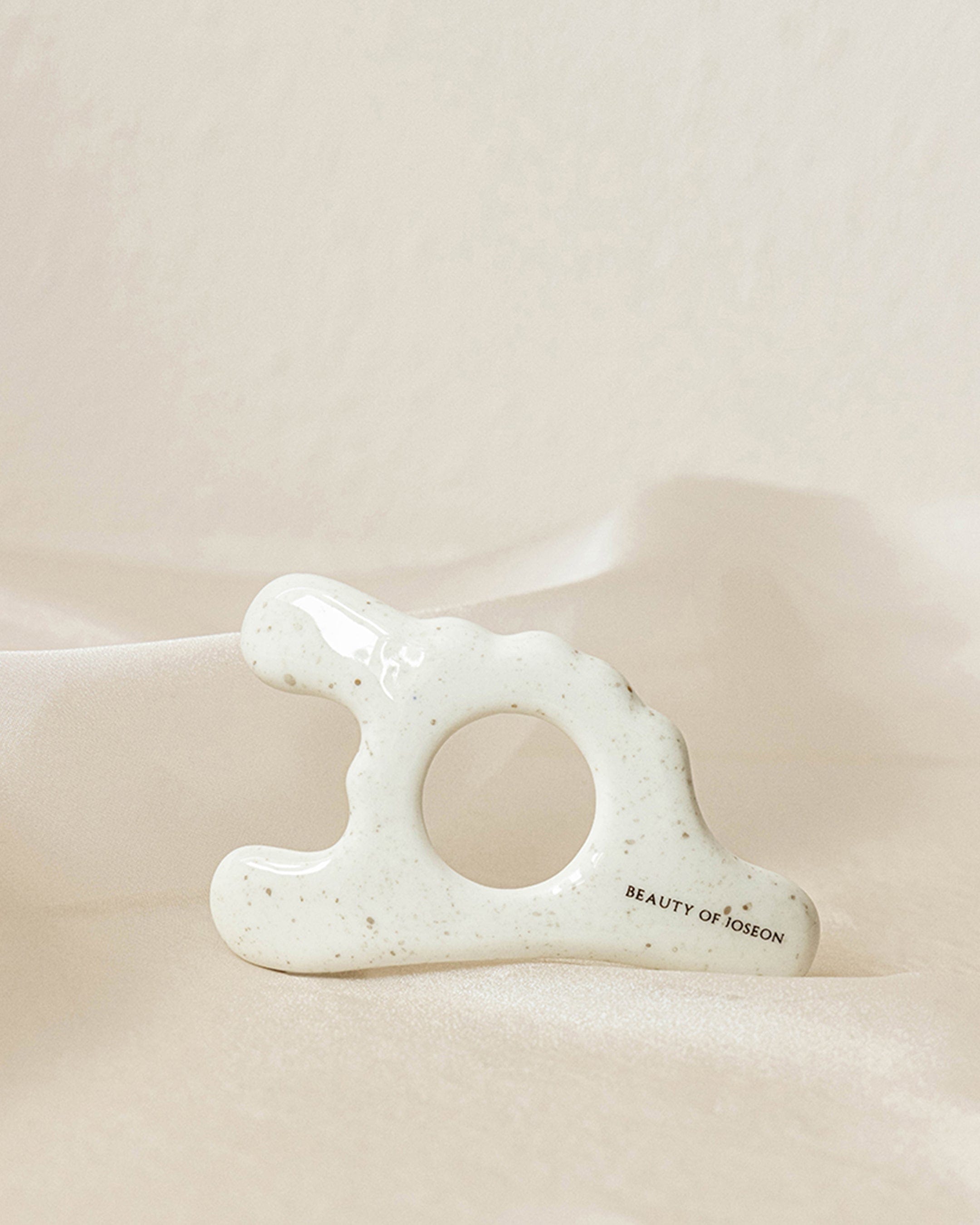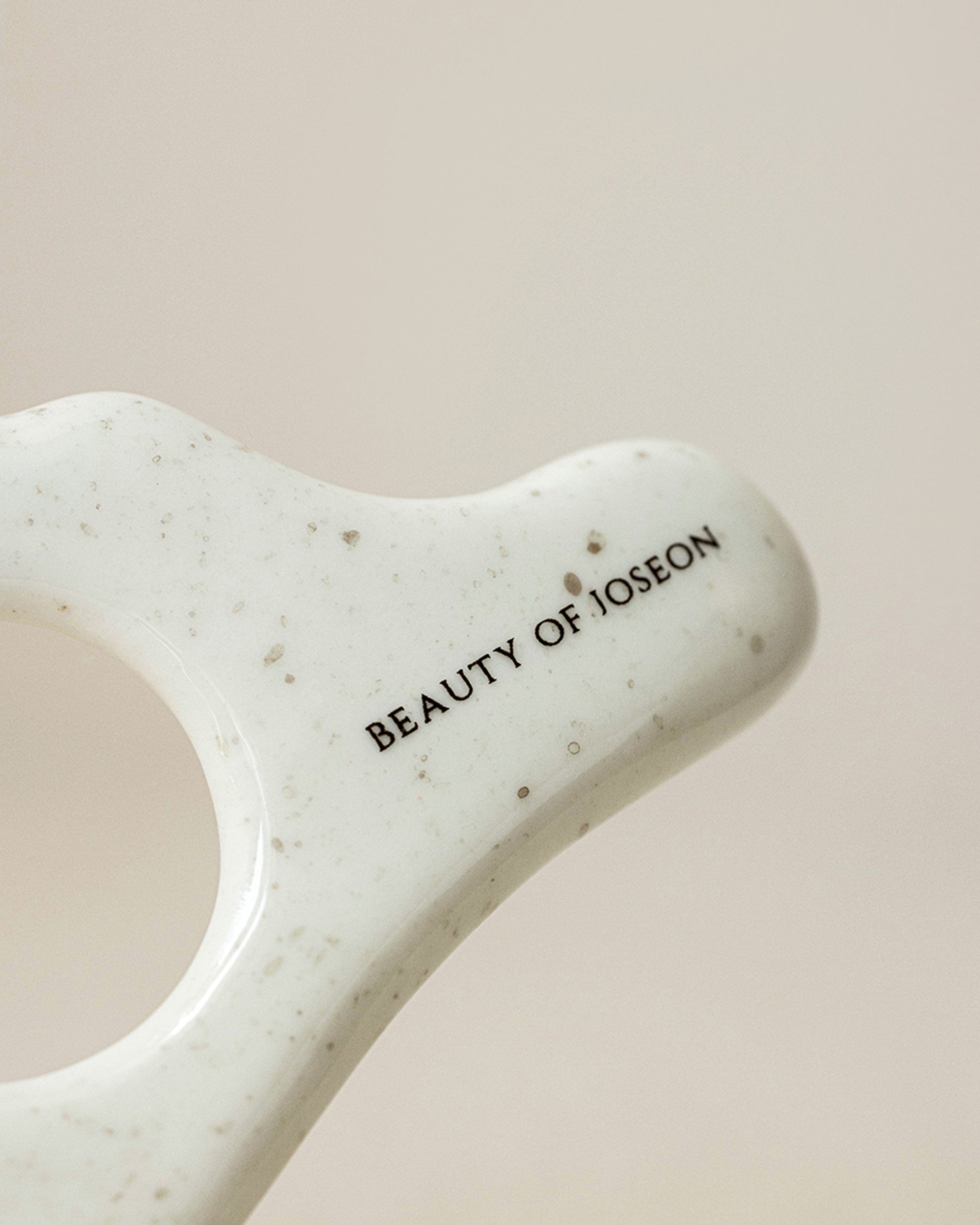 Porcelain gwalsa + Centella Asiatica Calming Mask 10ea
$35.00
Regular price
$42.00
Description

Ingredients

How to Use
What is inside?
2. Centella Asiatica Calming Mask 10ea

What it is Porcelain gwalsa
We believe that true happiness and healthy life can be fully enjoyed when the body and mind are in a comfortable state. We sincerely hope that your day is "Anshim(安心)," meaning a peaceful state of mind.​
​Ceramic gwalsa (괄사), used in traditional folk remedies since ancient times, repeatedly stimulates each part of the body to release meridians and activate acupuncture points. Ancient pottery is the material optimized for traditional gwalsa therapy. ​
What it is Centella Asiatica Calming Mask 
This mask pack contains 15% Centella Asiatica to help soothe the skin comfortably. Containing green tea extract, mugwort extract, and 3 types of hyaluronic acid, it provides moisture to the skin from deep within.
Gwalsa - ceramics
Maskpack - Water, Centella Asiatica Extract, Glycereth-26, Butylene Glycol, Niacinamide, 1,2-Hexanediol, Hydroxyacetophenone, Arginine, Acrylates/C10-30 Alkyl Acrylate Crosspolymer, Hydroxyethylcellulose, Carrageenan, Polyglyceryl-4 Caprate, Polyglyceryl-6 Caprylate, Adenosine, Ethylhexylglycerin, Disodium EDTA, Helianthus Annuus (Sunflower) Seed Oil, Panthenol, Artemisia Princeps Leaf Extract, Lycium Chinense Fruit Extract, Propandiol, Portulaca Oleracea Extract, Panax Ginseng Root Extract, Camellia Sinensis Leaf Extract, Anthemis Nobilis Flower Oil, Sodium Hyaluronate, Hydrolyzed Hyaluronic Acid, Hyaluronic Acid

Gwalsa massage stimulates the meridians, paths that connect the important reaction points between the skin and muscles, bringing a bright tone to skin, and also has the effect of controlling facial edema, facial asymmetry, and facial muscles.

1. Use toner with cotton pads for refine your skin texture
2. Put the mask on your face and leave it for 15-20 minutes
3. Take off the mask and pat gently with your fingertips to be absorbed
---
Porcelain gwalsa + Centella Asiatica Calming Mask 10ea
$35.00
Regular price
$42.00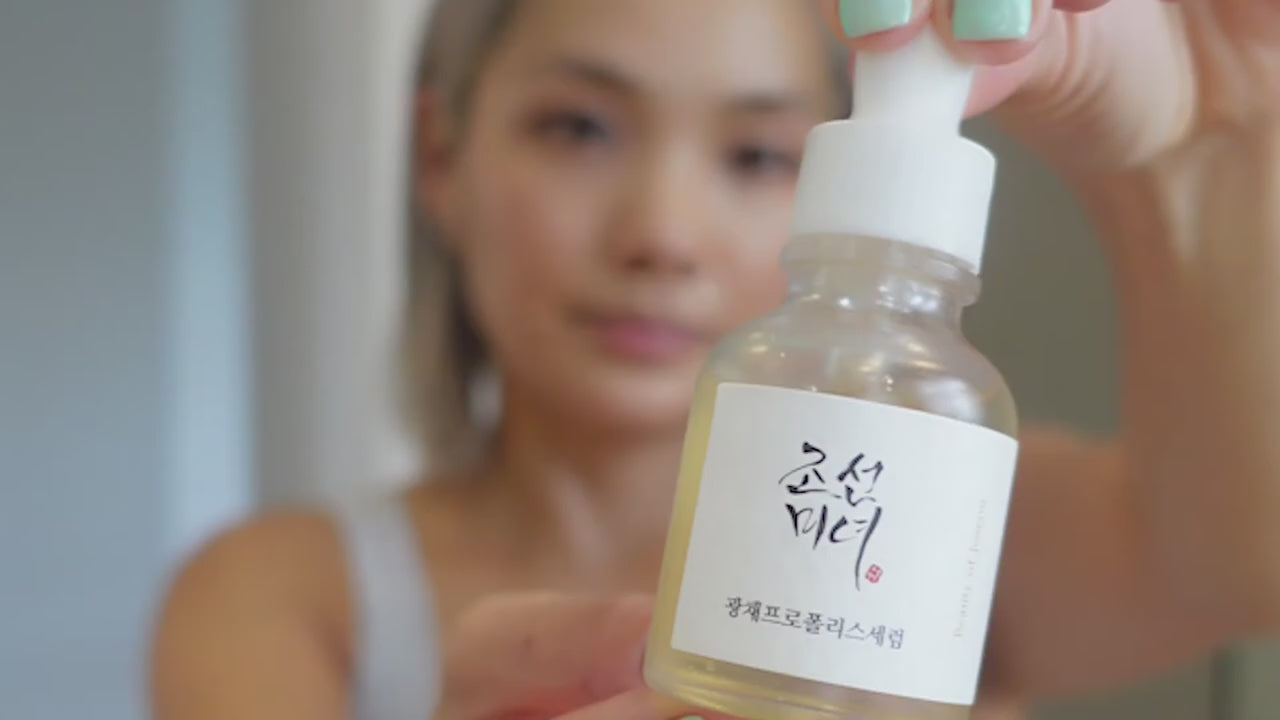 GREAT Mask and Gwalsa
I LOVE this Gwalsa— it is so variable and works on all areas of the body! The mask is also lovely and works as a great companion to the red bean mask (I alternate them every few weeks)
Youtube video is Blocking the Purchase button
Could you please remove the video so we can purchase?
Trying to purchase this gwalsa set but the YouTube tutorial video is preventing me from hitting the purchase button. Please fix this or get rid of the YouTube video.
Amazing
I love all the products! The mask are so soothing and hydrating and the porcelain gwalsa is amazing!! :)
Very happy
Is the first time I use gwalsa and I can say that I am very happy with it as I am with the other products from Beauty of Joseon.